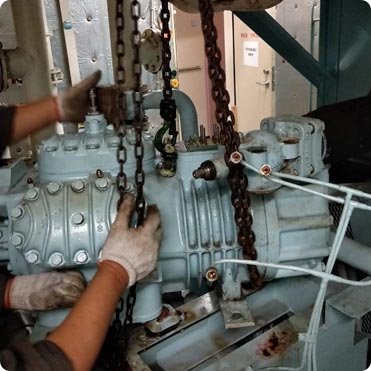 COMPRESSORS: INSTALLATION, REPAIRS & MAINTENANCE
Roger International does not only supplies all kinds of Compressors, brand new or remanufactured types, but also brings constant support to its clients by offering a multitude of adapted services for Marine & Industrial needs. Our team is at your disposal all along the operations from the installation of your compressor to its maintenance. We offer high standard repairment services as well and will be able to solve your problems thanks to the knowledge and professionalism of our field operators.
INSTALLATION:
From brand new compressors to remanufactured as well as repaired ones and even 2-stage Air Compressors for marine usage, our offering fits every budget and usage. We work with some of the major manufacturers on the market such as Carrier/Carlye, Daikin, York, Sabroe, Bitzer, Bock, ABB Stal, Copeland and many more.
As part of our Chart of Quality, we consider each request individually and accompany our clients all along the process to make sure they have made the best choice.
Indeed, the compressor is at the heart of your HVAC system and needs to be selected according to your objectives as well as the standards of your HVAC system. At Roger International, we know that many failures and breakdowns seen throughout our career could have been avoided if the equipment had been correctly selected and installed in the first place.
Due to technological development as well as an increasing complexity of today's HVAC systems, dimensioning and installing a compressor requires more than ever both skills and knowledge. Moreover, marine air compressor have some unique working principles and installations services since such equipment follow particular procedures. Replacing your former compressor with a new one might require modifications on your already existing HVAC system. A proper connection of your unit to your power supply and local pipework system is a highly technical operation which is depending on several factors. In order to avoid any leaks or even more severe damages, it is important to let a professional you trust to do the job.
Moreover, your unit is responsible for circulating and compressing refrigerants which means that the cooling of your HVAC, highly important & highly regulated, depends on its performance. In addition to our expertise, we are also offering services which are up to date and comply with new regulations regarding the different parts of your compressor.
REPAIRS:
Your AC compressor is not working correctly? As said before, your compressor is of critical importance for the well-functioning of your HVAC system. Due to its central role, any malfunction can affect other equipment and could lead to dangerous situations such as the explosion of your unit.
We know the constraints of your job as a ship manager and because we value your time, our team is directly at your disposal in any anchorages, Ports, and Shipyards in both China and Singapore. Thanks to our know-how and an in-depth knowledge of the different major suppliers' products, we are able to quickly identify and solve your compressors problem. If you think your HVAC system is having a potential problem and you need rapid troubleshooting, do not hesitate to contact us and get your free complimentary inspection in order to receive an expertise as well as a report on the functioning state of your compressor.
MAINTENANCE:
Maintenance is the perfect way to have total control over the functioning state of your compressor and be able to reduce the likeliness of failure of your unit as well as quickly identify them at the very early stage thus protecting the rest of your HVAC system. Any professionals will tell you that routine checks and regular maintenance operations on your compressor are the key to a long-lasting equipment. Any signs of wear of your pump or any other components or parts should be taken seriously. Do not hesitate to ask us for advice if you are facing such situations.
If you are a ship manager and you want to both guarantee the well-functioning of your compressor & to reduce your costs in the long run, then we have the solution for you. Our experts offer service intervals for compressors with 10,000, 15,000 and 20,000 running hours.