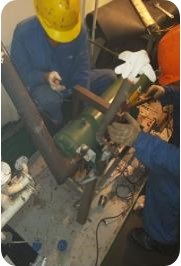 CONDENSERS: INSTALLATION, MAINTENANCE AND REPAIRMENT
At Roger International, we work closely with global manufacturers to offer the latest range of products. We have also increased our range of condensers and now supply a variety of seawater cooled & fresh water-cooled shell and tube condensers.
The condenser is one of the main components of your home air conditioning system as well as a key element in providing a comfortable environment within your ship. The condenser's job is to reject heat which was absorbed in the evaporator coil an HVAC system in general.
HOW DOES A CONDENSER WORK?
The 3 functions of your condenser as follows:
DE superheating
Condensing
Subcooling
It all starts with your compressor.
You know it, your compressor uses a lot of energy to compress gas. This gas is very warm and as such cannot be rejected due to the strong difference with the room temperature. It is transferring highly superheated vapor at a temperature which will be progressively lowered until it reaches the condensation level.
During this process, as we call this equipment "condenser", the early vapor is converted into a liquid.
After reaching this state, the liquified vapor will be cooled below the temperature of the refrigerant in the condenser. The efficiency of your condenser relies on its capacity to sub cool this liquid.
WHAT TO CONSIDER WHEN BUYING A BRAND-NEW CONDENSER?
First of all, there are certain labels you can refer to for indication on quality and performance of a condenser. One of them is the SEER (Seasonal Energy Efficiency Ratio). This rating will assess the efficiency of your equipment by dividing the number of BTUs (British Thermal Units) of heat removed from the air by the amount of energy used by the air conditioner in watt-hours.
Before you purchase your brand-new condenser, you should also keep in mind that the Average expectancy of such products is around 15 years or more if correctly maintained.