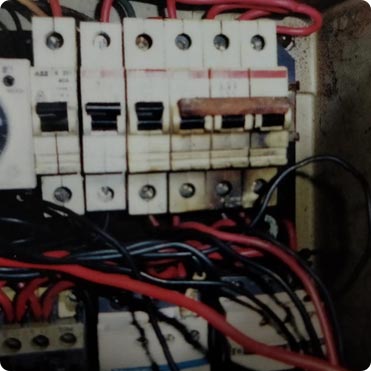 ELECTRICAL WIRING & CIRCUIT BOARD: TROUBLESHOOTING
As professionals, we bring to your attention the complexity of HVAC systems and especially when talking about electrical wiring and circuit boards. In addition to being highly technical, such operations can also turn out to be very dangerous for you and your crew. Improper HVAC wiring and installation may cause electrocution and even lead to fatal consequences and major dangers such as electrical fires.
Roger International offers repairing and maintenance services for electrical wiring as well as circuit board thus providing you with both security for you and your crew and the correct functioning of your HVAC system on the long run. Indeed, many parts of your equipment such as electric motors, boilers, chillers and others are connected to electric relays interwoven in the starting circuit wiring. If your electric wiring is not functioning correctly, those devices as well as others won't run efficiently which will directly impact the performance of your equipment.
With proper instruments and technical information about your system, our team of experts are able to troubleshoot any wiring/circuit issues fast and under short notice in any anchorages, shipyards and ports in both China and Singapore. One crucial element which will allow us to quickly identify the source of your problems is the wiring diagram which almost every HVAC control system has.
This diagram is presenting all performance parameters such as setpoints, throttling ranges, actions, spans, proportional bands, and other control component adjustments or setting data. If you do not have any of those documents or if they have not been reviewed, examination from our team will be necessary.
If you are not sure about the operational status of your equipment,
Contact us now and get a free complimentary inspection!