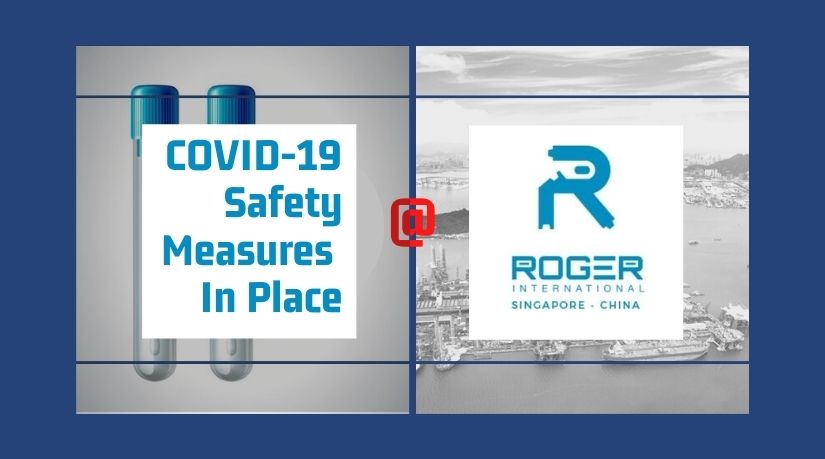 COVID PANDEMIC

AND MARITIME INDUSTRY
Maritime transport, an indispensable vector of globalization through which more than 80% of raw materials and goods transit, is suffering from the Covid pandemic due to the economic slowdown, but also to containment measures decided by most countries.  
In the current unprecedented times, the coronavirus pandemic has triggered severe consequences for societies and nations. The maritime industry is essential in the response against the related economic slowdown.
What

Roger International

Does to

Ensure Safety

for All
At Roger International, we comply the safety measures defined by our Singapore government.
In order to ensure our staff safety as well as our customers and others with whom we interact, we imposed drastic measures in our workspace, both in our offices and in our workshops.
HOW

ROGER INTERNATIONAL ENGINEERS

BEING SCREENED FOR COVID-19
Swab tests are currently the most accessible method to detect covid infections at any stages. In addition to having a high accuracy rate, antigen testing can determine within 48 hours if a person has been infected with the virus by detecting virus fragments in a sample. PCR tests have been recommended by the International Maritime Health Association (IMAH) since April 2020.
We are working with accredited laboratories that are able to quickly diagnose our engineers thus allowing us to react quickly in any situation.
HOW THE

SWAB TEST

IS PERFORMED
Washing of hands, sterilizing with a hydro-alcoholic gel. 

Always wear appropriate PPE to protect oneself and those around one.

Carefully open the swab package and remove the swab without touching the nozzle.

Insert the unused viral swab stick into the mouth and start wiping the swab around the posterior pharynx and tonsils (back of the throat).

Remove the swab from the throat and test the nasal swab with the same swab by placing it in one's nostril and wiping the inside of the nose.

First carefully place the swab inside the tip of the fluid tube.

Place the tube in the container provided, fill out all the paperwork and prepare to send the test.

Washing of hands again.
For more information, watch this explanatory video
As recommended by WHO, one should always seek medical advice. With the correct sampling technique performed by a health professional, the results are even more accurate and can be used as a reliable source of information
HOW WE PROTECT

OURSELVES AND OTHERS IN

WORKING ENVIRONMENT

:
Temperature checks :

Take all employees and engineers temperatures daily since fever is a Covid main symptom (38°C (100.4°F) and above (oral temperature)).

Symptoms Identification :

Make sure all engineers and working personnels are aware and informed about all symptoms and signs. The Singaporean government has been putting online symptom checkers that are at free to use and at one's disposal (click

here

)

Wear a Mask:

Masks should be imposed on all employees. Make suring that there are extra masks in stock as backup means since the Covid is airborne.

Social Distance:

Employees should maintain 1 metre distance and practice social distancing as much as duties make it possible in the workplace.

Disinfect and Clean Work Spaces:

Clean and disinfect all areas such as offices, workshops, bathrooms, common areas, shared electronic equipment routinely.
PROCEDURES THAT

OUR ENGINEERS FOLLOW
In view of everyone's safety, be it a job execution or inspection before step foot to our clients' premises, Roger International engineers will follow through a proper but simple procedure before anything else comes into place.
We stay fully committed to supporting you and your crew throughout these challenging times.

Our new Blog section at available now, it is created for information and knowledge sharing.
Case Studies will also be shared on our Case Studies section base on the Commonly Faced Problems and how we help our clients in resolving.
If you would like to discuss any details relating to the services we can provide, please use the form below or email us at sales@rogerintl.com