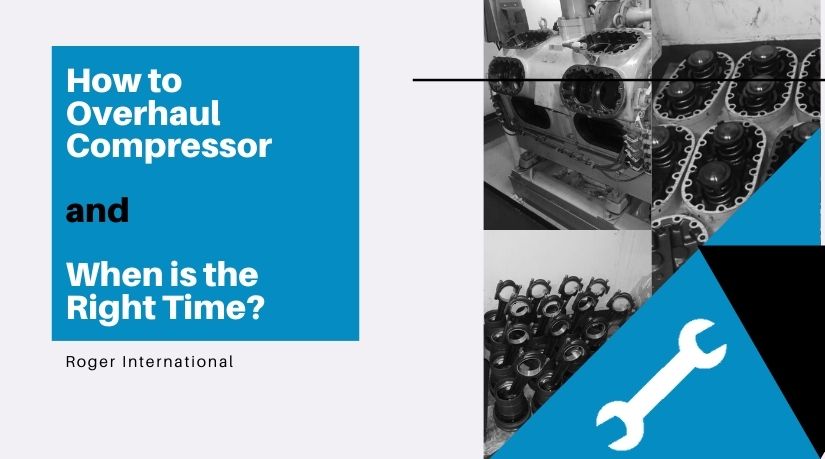 Thanks to our expertise, we know when to overhaul a unit according to different indicators. Vibration of your bearing, oil contamination with metal fragments and other signs of fatigue and wear show some of the internal parts of your system have been damaged.
After years of experiences, we know exactly when in time overhauling is required and how much wear your equipment has taken. We will also share propose to you a set of spare parts with the support and service.  
If you are a ship manager and you want to both guarantee the well-functioning of your compressor as well as reduce your maintenance and repairment costs in the long run, then we have the solution for you. Our team of experts offer adapted service intervals for compressors with 10,000, 15,000 and 20,000 running hours (check here for full detail of services).
WHY SHOULD YOU

OVERHAUL YOUR AIR COMPRESSORS

?
At Roger international, we know most compressor related issues come from poor maintenance or irregular routine checks. Implementing such operations on a regular basis can considerably extend the durability of your compressor and avoid critical and unexpected situations such as the shutdown of your HVAC equipment. The simple process of overhauling your compressor will bring the performance of your system back to its initial efficiency thus guaranteeing more years of loyal services.
By letting us overhaul your compressor, you will:
Be 

updated

on the operational status of your compressor

Prevent 

breakdown in a critical moment

Save time and money 

on repairment or the purchase of a new compressor

Assure 

the safety of your ship as well as its crew

Increase 

the durability of your compressor

Retrieve if not exceed

the initial performance of your compressor
How

Roger International

could

overhaul your compressor?
As part of our chart of quality we will do the best we can to make your compressor run as efficiently as possible. As such, we will perform operations of disassembling, control, inspection and replacement on the different internal parts of your unit.
We will meticulously verify major items of your compressor such as pistons, piston rings, bearings, valve ring plates, shaft seals, suction filters and many others and replace them with the corresponding spare parts if necessary. 
To know more about our working process, please check our service interval brochure or contact our team directly.
We are always UpToDate on new technologies and improvements in line with our policy to provide the best quality to our clients and partners.
Here are some of the advantages

our clients profit from
Guaranteed Support And Follow-Up All Along The Process

Service Intervals A/C Compressor For 10,000, 15,000 and 20,000 working hours.

Contact Us And Get A Free Complimentary Inspection From Our Team Of Experts
Direct Service In Anchorages, Ports And Shipyards In China & Singapore
At Your Disposal Without Delay Thanks To Our Organized Stock Management
Warranty Of 6 Months To 1 Year If The Installation Of Your Remanufactured Compressor Is Done By Our Team

A multitude of services in Repairment, Installation, Maintenance and Overhauling for your compressor and other HVAC equipments
If you would like to discuss any details relating to the services we can provide, please use the form below or email us at repair@rogerintl.com