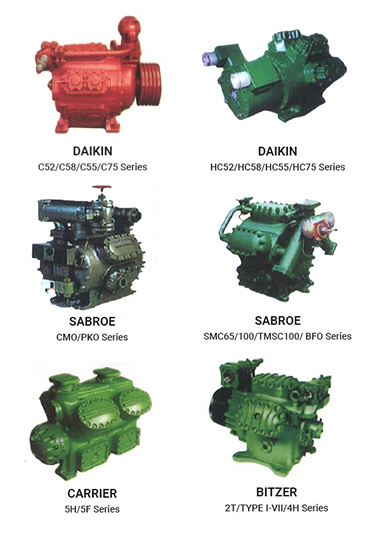 Remanufactured Compressors
Remanufacturing is the process whereby old parts which are still in good working condition are cleaned and repaired while those which are unserviceable are replaced with new ones. They are then reassembled to perfect working condition as per original manufacturer's specification, thus extending their product life.
Like recycling, remanufacturing saves natural resources, energy and most importantly, our environment. It also reduces the amount of labour required as compared to manufacturing new products. From the business point of view, it reduces costs incurred that would otherwise be used for other investments.
Remanufactured compressors performs as efficiently as brand new ones but at a significantly lower case. The amount saved can be as high as 40% when compared to buying a brand new compressor.
At Roger international, our compressors are constructed with four principles in mind. They are Economical, Efficient, Reliable and durable.
To ensure that our compressors work as efficiently as new ones, all critical performance components are always replaced by new parts. The internal parts which are replaced are all brand new manufacturer space parts.
Many people have the misconception that brand new products always perform better than replacement ones. However, contrary to the common belief, our compressors have never failed to perform in equivalence to their brand new counterparts. This is due to our strict manufacturing process at our workshop.
Our compressors are remanufactured to meet OEM (Original Equipment Manufacturer) specifications. After the reassembly is completed, these compressors must pass our free-load testing before they are delivered to our customers. Our customers can be assured that the compressors that they received are in perfect working condition.